How to Promote My YouTube Videos 2020
How to do Promotion on YouTube
YouTube, MyTube, Everybody'sTube. YouTube is everywhere. It's the new television network with millions of channels. But how do you attract visitors to your YouTube channel?
Let's dive in.
The key to exponential growth on YouTube is suggested videos. When you watch a YouTube video, you will have noticed the up next column to the right of the current video you are viewing.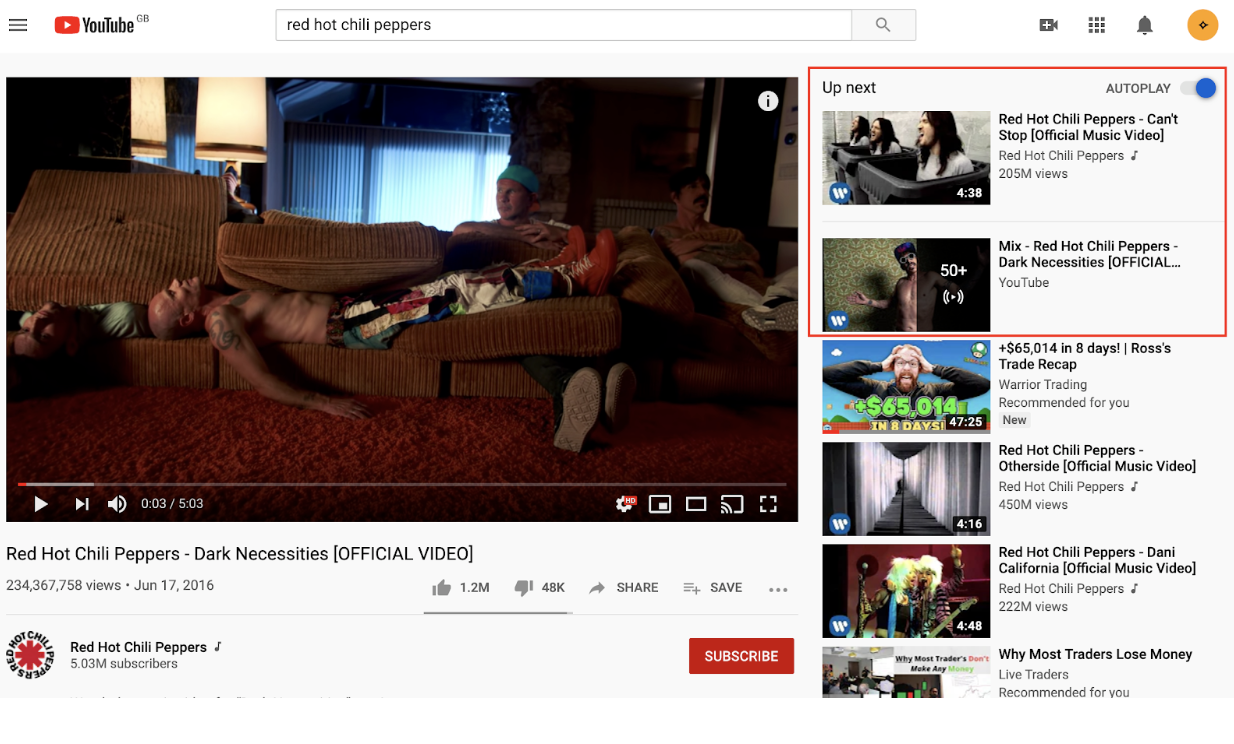 Can I Promote My Music on YouTube?
Of course, you're a guitar hero, aren't you! 
So how do you show up in the suggested videos? Can YouTube promotion help you?
Tip number one
Use YouTube as a search engine. Find a popular video in your niche or genre. Important – Just because you're a band or an artist, it doesn't necessarily mean that your video has to be a music video or even about your music. Be creative.
Type in keywords that describes the video you want to make.

Then find a video in the search results that has lots of views.

Remember,

you want to show up right next to this video so people will click over to your video.
Tip number two
Make a video that is better than the original video.
You see, YouTube uses a metric called the expected watch time. It's their best guess at how long a user will watch a video before they click over to the next. It's in your best interest to make your video leap out of the computer and slap you in the face, Just like you would at a gig or live show. 
YouTube promotes videos that keep people on the platform, so needless to say, you need to keep your audience tuned in.
How Can I Promote My YouTube Channel?
So now you've made some kick-ass videos, and people are watching your content your next question probably is how do I increase my audience? What are the tips for successful YouTube promotion?
Organic growth is a few tips away keep reading.
Tip number one
Have a fantastic intro. Statistically, the first 15 seconds of the video is where your audience is won and lost. The intro needs to capture their attention, be instantly recognizable and let your audience know what is to come.
Tip number two
Long-form content wins! Hands down all the stats show that long-form content is king. Therefore, it would help if you told a captivating story. If it's epically long, then make it engaging and don't bore your audience to tears, because they will switch off.
The best way to make your videos different is by changing it up. Use interesting images, music or camera angles to break up the content into bite-sized chunks. Use some incentive B-Roll footage. Anything to keep your audience interested and the watch time to a maximum.
Where Can I Promote My YouTube Channel?
On other people's channels of course. Ask bands in your area or genre if you could feature on their channel. For example, you could review each other's latest tracks.

On Google. It's

safe

to say that if you SEO optimize your channel and videos; you will show up better on search rankings.

On Social media. The following needs to be able to follow you. Link all your profiles in every conceivable way. Just make sure your branding is uniform across all platforms, so your fans know it's you.

Be part of someone else's audience. Comment on videos and get involved with the scene it's the most

effective

way to engage with People. It pays to mingle!
How Much Does It Cost to Promote YouTube Videos?
If you want a safe and legal YouTube promotional partner, then you can count on us. Our prices for YouTube promotion are the best in the industry.
If you have any questions, please don't hesitate to contact us today!