Top-11 Spotify promotion services for a safe use in 2021 + working tips!
The modern world is changing very quickly. Some 150 years ago, people rode horses and could not even imagine cars. The same goes with music. 15 years ago, people could not imagine that services and programs will be created for comfortable listening to music. In those years it was popular to listen to music from CDs, cassettes, and records. However, like everything in this world, the music industry is constantly changing, new trends appear every day.
The advent of music streaming services has revolutionized the way people listen to music. A long and difficult search for new tracks has been replaced by intelligent and convenient algorithms that select music for the specific taste of a particular user. No pangs of choice, no hesitation, just an endless stream of high quality music, selected especially for you.
Of all the music streaming services, Spotify stands out the most. This young service was one of the first to introduce smart algorithms for selecting and recommending music. Unique features and a low entry threshold for both listeners and musicians have made Spotify the most popular and sought-after music service today.
At the time of this writing, the total number of Spotify users is over 350 million. Wherever you ask someone if they know about Spotify, you will definitely get an affirmative answer. Every country, every city – everyone and everywhere knows about Spotify, and so many of these people use it. 350 million people is 5% of the world's population. Even some social networks can only dream of such huge numbers.
With Spotify's colossal size, it comes as no surprise that new musicians are poised to pursue careers on Spotify alone. This is a natural process. Therefore, over the past 3 years, the number of musicians on Spotify has doubled. Musicians from all over the world are attracted by the ease of use of the service, the huge audience size of Spotify, high payouts to musicians, and the ease of building a successful career.
However, not every musician is exposed to all the good things about Spotify. Many musicians cannot experience all the benefits of this undoubtedly amazing service. Some lack payouts, others lack popularity. And musicians of the first and second categories have organic thoughts about promoting music. It is for such musicians that this article is intended.
The variety of services for music promotion is huge, and it is sometimes very difficult to choose the right one. Each service has its own pros and cons, advantages and disadvantages, and at first it can be very difficult to navigate them. The choice of the first service for promotion is very important, as it forms a complex opinion about the promotion of music in general. In order not to make a mistake, not to choose a bad service, you need to have a lot of knowledge, and to select a service based on this knowledge, your experience, and advice from the Internet. And since it is difficult to gain experience and knowledge the first time, we will rely entirely on advice from the Internet. Fortunately, these tips will come from me, a person who has already worked with a variety of Spotify promotion services.
Anyone not even familiar with the music industry and music promotion after reading this article will be able to successfully promote their own music on Spotify. In this article, I will try to list the best Spotify promotion services, describe each of them, and provide an additional list of tips for aspiring musicians to help them build a successful Spotify career.
Here's what to expect:
What is

Spotify promotion

service, and how does it work?

How to choose the promotion service?

Top-11 Spotify music promotion services

5 Easy tips on

how to promote on Spotify

Summary

FAQ
What is Spotify promotion service?
All Spotify promotion companies can be described in one phrase – help for money. These Spotify promotion services exist so that every musician can fix his situation without applying significant physical efforts and time loses. Just a few dollars can help you get the audience size you want. Spotify promotion companies help musicians achieve the heights that simple methods cannot provide.
Sometimes it is very difficult to create a large audience on Spotify, sometimes it is just that circumstances do not allow it. In such situations, music promotion services come to the rescue. On these Spotify promotion services, for a small fee, you can buy plays, followers, monthly listeners, likes, etc.
If a Spotify user chooses the right service, then all the followers and plays they get will be real and organic, but choosing a bad service, or knowingly buying fake plays or followers, can put yourself and your account at unnecessary risk of being deleted. Spotify is careful to ensure that all numbers and parameters on the service are real. That is why you should not knowingly buy fake numbers.
How to choose the Spotify promotion service?
There are four main rules to follow when choosing a music promotion service on Spotify:
The website should be of high quality, with good animation, neat color scheme, nice user interface. The complexity and quality of a website directly reflects the quality of music promotion that a client can receive.

Price policy. Prices should not be too high or too low. Very low prices by default suggest fake growth. I don't think you want to pay $10-20 and get fake followers or plays. However, it is not necessary to pay $1000 for the most expensive services, since in them part of the money is paid for the reputation of the service, for its name. Therefore, it is recommended to choose services of an average price category, maybe even with prices slightly below average.

Reviews for the service should be mostly positive, with a small percentage of negative. The reason for this is the fact that it is impossible to please everyone, and there will always be dissatisfied customers. And if the service has 100% positive reviews, this may indicate fake reviews. Also, for obvious reasons, you should not choose a service with deliberately bad reviews, with a low rating, as the result will be predictably bad. The service you choose should have a 95%+ rating, and at the same time not have critically negative reviews.

Payment services must be known and reliable. You should not trust a site that has unknown or unreliable services in its payment methods. Always choose music promotion services that cooperate with recognized and generally accepted payment systems such as: Visa, MasterCard, PayPal.
Top-11 Spotify promotion services
Below is a list of services that I can recommend for use. This list of 11 music promotion services on Spotify has been compiled based on my experience and the experience of working with these services. The rating is ranked from best to worst. Enjoy.
1. PromoSound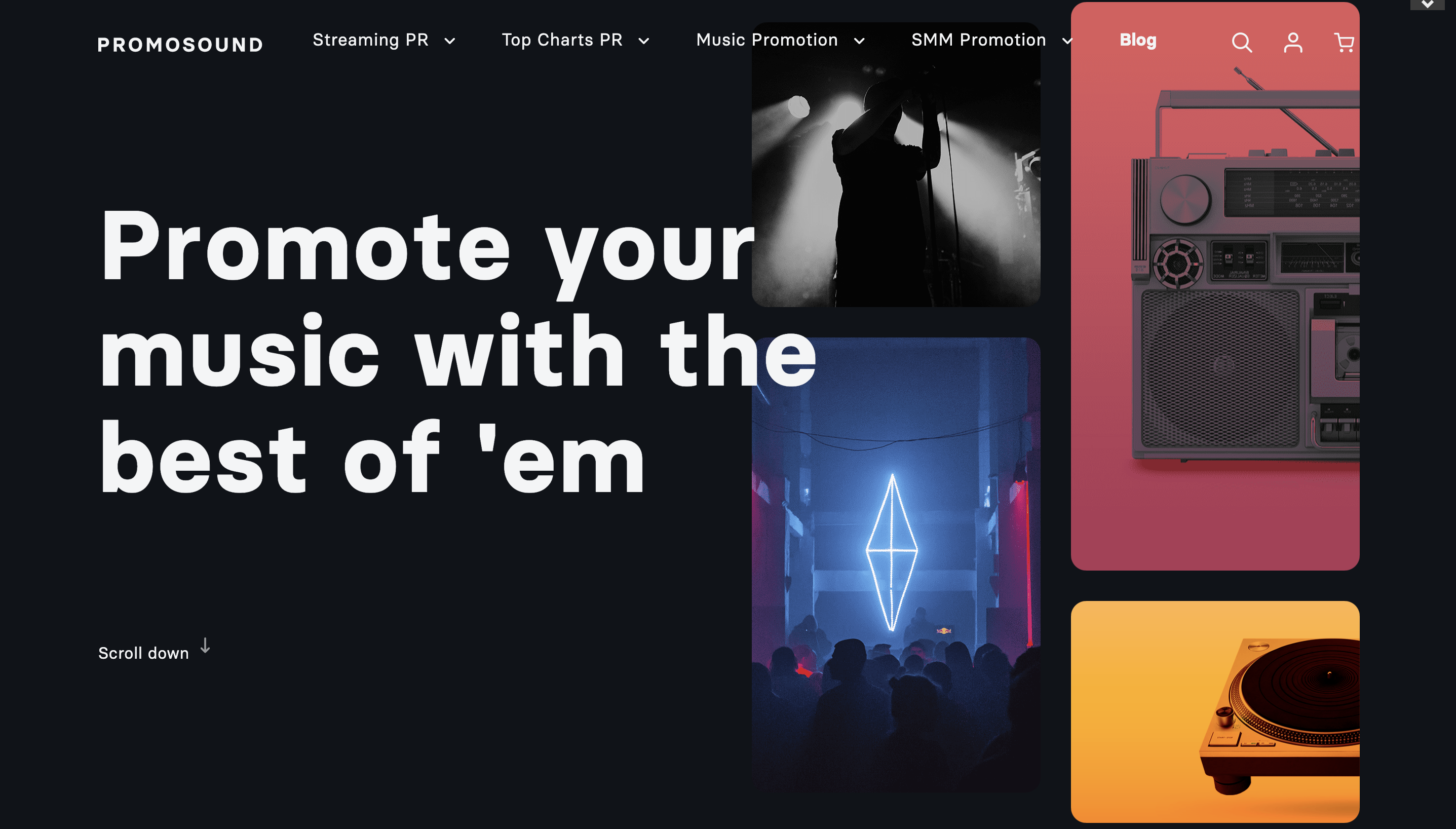 Perhaps the best music promotion service I have ever worked with. This service not only passes through all four parameters that I described above, but also brings something of its own, unique The site is excellent, the pricing policy is wonderful. The service offers a wide range of promotion options, not just on Spotify.

Each client can choose any number of followers, likes, plays, monthly listeners, and other parameters that he wants to increase, from hundreds to several thousand or even a million. An excellent pricing policy allows for complex and voluminous promotion of the company without significant financial costs. The support of this service is very responsive and is always ready to help, explain, show.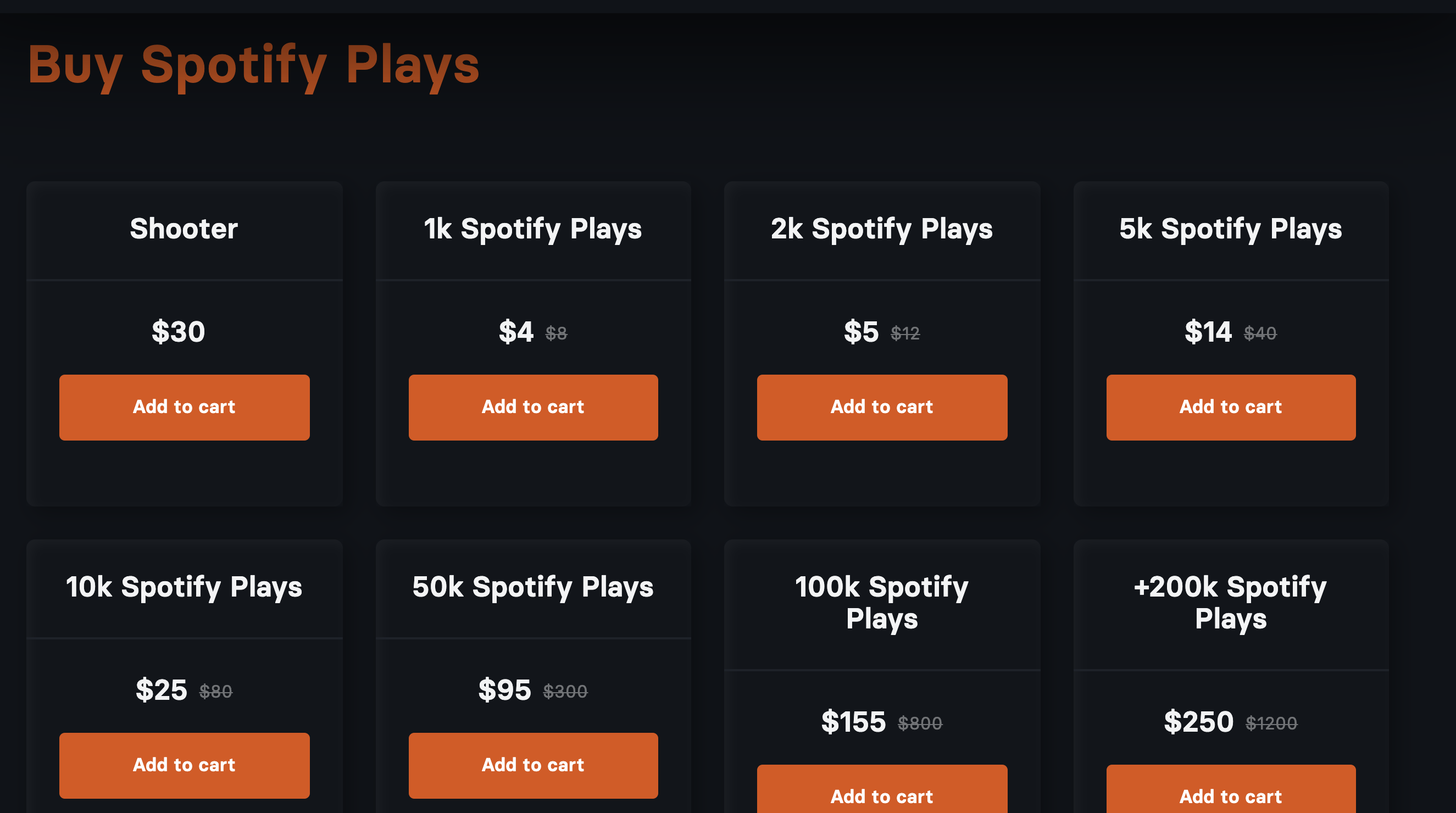 The huge advantage is the simplicity of the promotion operation. For the user, this procedure takes several clicks: choosing the quantity, paying, providing a link to your track or profile. It is impossible to think of a simpler procedure. The chance of error is minimal. This music promotion service can be described in one phrase – the best of the best, 10/10. Would definitely recommend. 
It looks like I am not the only one, who enjoyed working with PromoSound. Just check the rating on Trustpilot:

I wonder why other people didn't leave their review. Maybe they just never do it? If you have tried this service – leave a review.
2. ArtistPush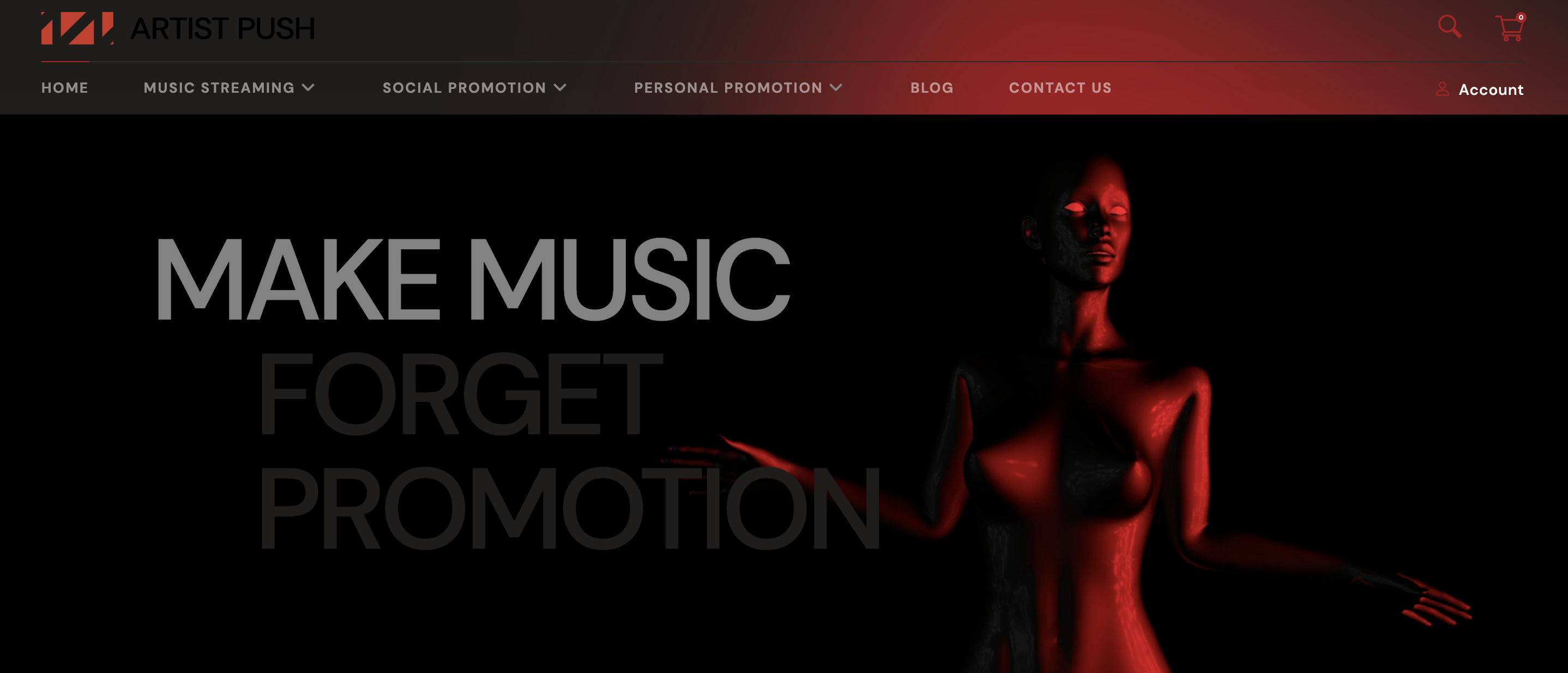 The Spotify promotion service, which is in the second place on my list, is practically no different from the leader. An excellent assortment of Spotify promotion options, a pleasant pricing policy, a good website. I could single out only two reasons why I could not put it in the first place: the indistinct color scheme of the website, which is difficult for me to look at, and the lack of experience with this service. With all the advantages and hypothetical disadvantages, I would really like to work with him for longer.
Like the first service, music promotion takes place in several stages, each of which is performed by professionals. The variety of Spotify promotion paths is exactly what attracts me in the first two services of this list – promotion occurs on all fronts. And through organic Spotify playlist promotion, and through blogs, and through YouTube, and through social networks, and through advertising, the list is endless. The main plus is the reality and efficiency of promotion through these services. At a reasonable price, the result exceeds all expectations. Every follower, every play, every like – everything is absolutely natural, real, received from real users. No bots, just real people. 9.9 / 10.
3. Streamify

The third place is occupied by a fairly good place to promote music on Spotify, which, unfortunately, is quite far behind the first two positions. Streamify is a fairly old service and has been promoting music for a long time. However, with all his experience, the creator was unable to overcome some flaws- a limit on order sizes, a terrible website, high prices. For example, if you want to buy plays, then Streamify has a limit of 50,000 units, while the first two services do not actually have a limit, since a user can ask for 10,000,000 plays through the support service. In addition, the price for a hypothetical 1,000,000 plays will be 30-50% higher than that of the leaders of this list. I can calmly recommend this service, but if the first two Spotify promotion services are available, it doesn't even make sense to continue this rating. 8/10.
4. Fiverr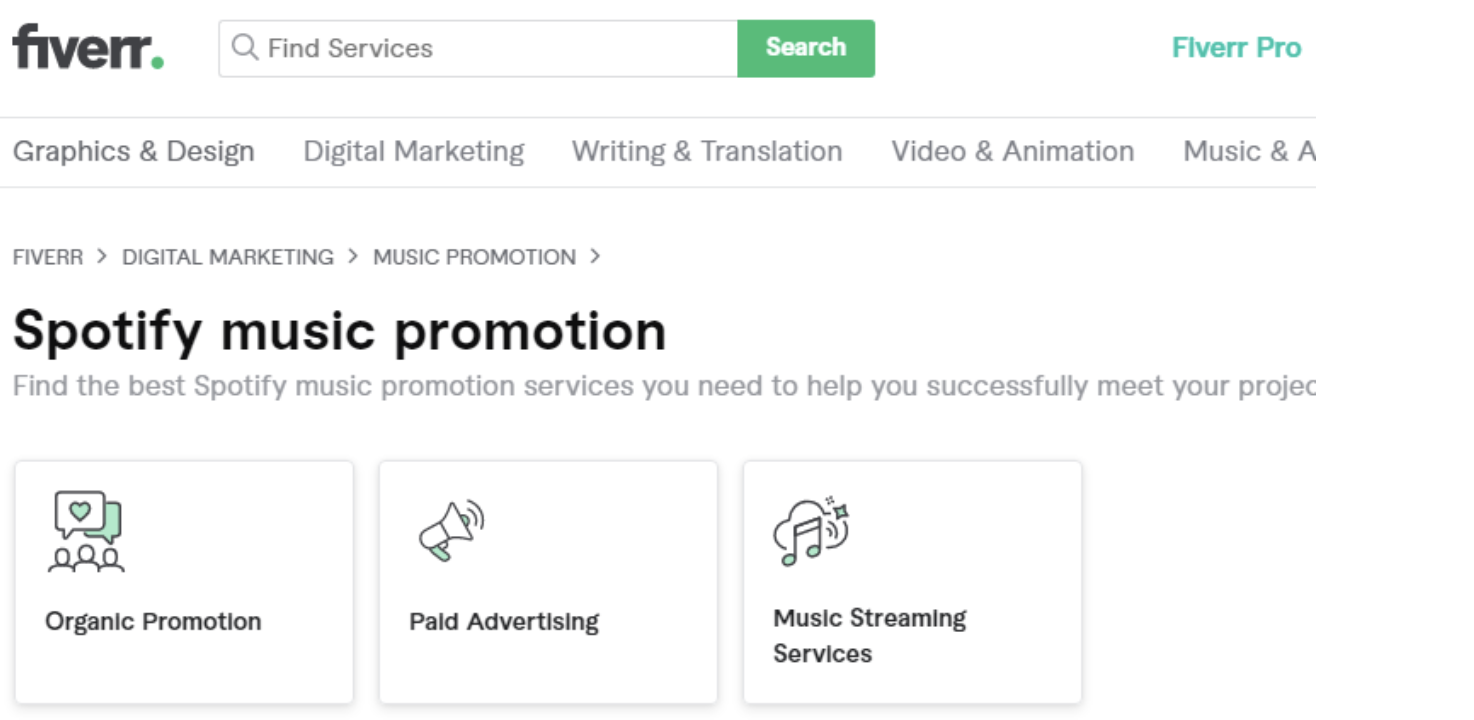 Everyone should be familiar with Fiverr by now. On this website, people from all over the world sell their services. In addition to the services of logo designers, you can buy Spotify promotion services on this site. Since the Spotify promotion is done by individuals, the rate of return is higher. Each client will receive the full time of the executor. However, the disadvantage of promoting through the participants of this platform is a possible lack of experience and an indistinct pricing policy. The advantage is the transparency of the deadline, known before the implementation of the order, the opportunity to communicate with the contractor before the order, discuss all the details, express your own wishes. I see no reason to leave a review here for each specific seller, so a rather short review is obtained. 7/10.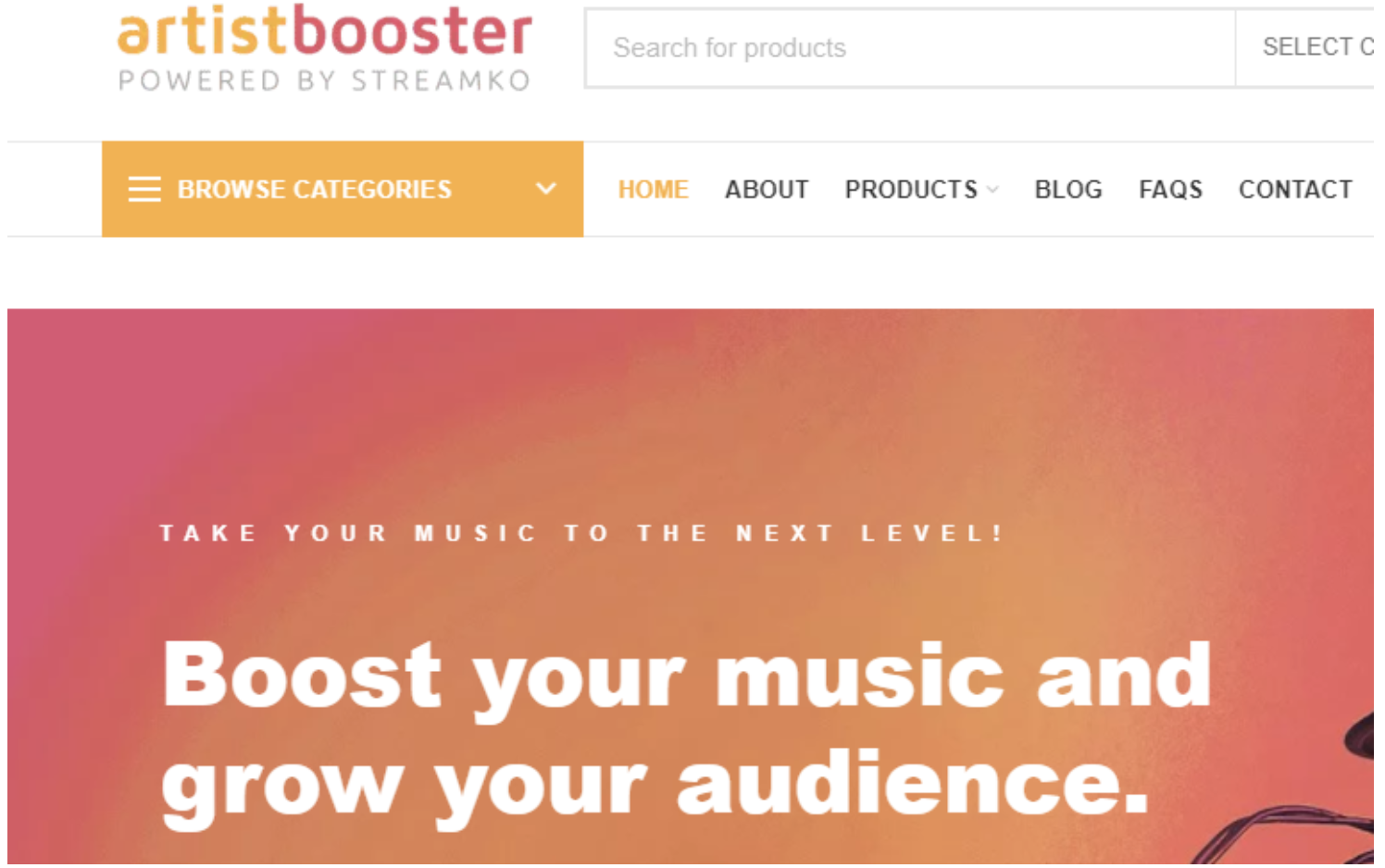 This service, while not as outstanding as the leader of the list, can still be a pleasant surprise. The result that the client receives satisfies all requests, albeit at a slightly overpriced. If every dollar matters to you, this option is not for you. However, if you are looking for the perfect service to promote your Spotify song, it is definitely worth paying attention to this service. The quality of followers, plays, and other parameters for which the increase is carried out meets the asking price, without any revelations. 6/10.
6. Streamsbyte

Based only on the name, one might get the impression that this service provides only streams, but in reality the user can buy plays, followers, and any other parameters. The service cannot boast of any striking advantages, it is a little closed, and does not seek to talk about itself, its methods, its achievements. However, the experience that I had was positive, and the support worked well, and I was pleased with the result, so the service gets my recommendation. 6/10.

Describing this service in a nutshell – expensive, but good. The quality or variety of options of Spotify promotion for artists is not admirable, but the high price is striking. Price is the main drawback of this service, since it is significantly higher than that of all competitors. If you are a representative of the upper class, and you have several hundred dollars lying around, you can add them and try this music promotion service. The result may surprise you. 5/10.
8. Songlifty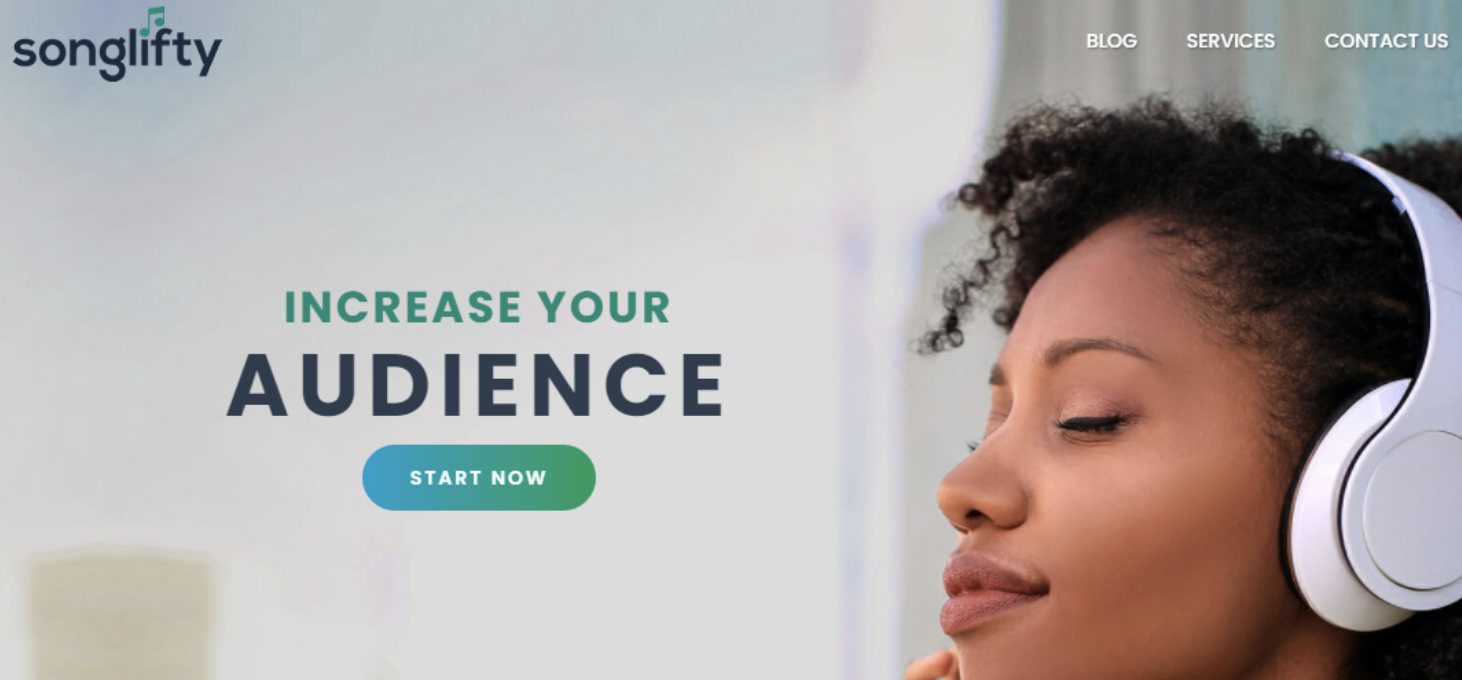 This service boasts a high quality user experience. The website, payment system, everything is top notch and the checkout process is intuitive and simple. When it comes to promotion options on Spotify, the service can offer an average range of services, at prices that can be called acceptable for the industry. Each promotion package can be customized individually, based on the needs and preferences of the client.
As for the prices, for example, for plays, four dollars will give you 500 units, and eight hundred dollars is already 250,000. With regard to followers, $45 gives 100 subscribers, 700$ – 5000. Yes, not cheap, especially in comparison with the representatives of the first two positions of this rating.
The big plus of this particular service, despite the high price, is the possibility of a refund. Unlike other Spotify promotion services, it is here that you have the opportunity to get your money back if the result does not satisfy you. In addition, if the purchased subscribers or listens are deleted, the service will replace them with new ones absolutely for free. The only thing that bothers me is the admissibility of the possibility of deleting the purchased plays or followers. This may indicate dishonesty or lack of transparency in the procedure for obtaining these plays and followers. If all the plays and followers were real, there would be no such item as a refund. However, this might just be a nice bonus feature. 6/10.
9. Burstimo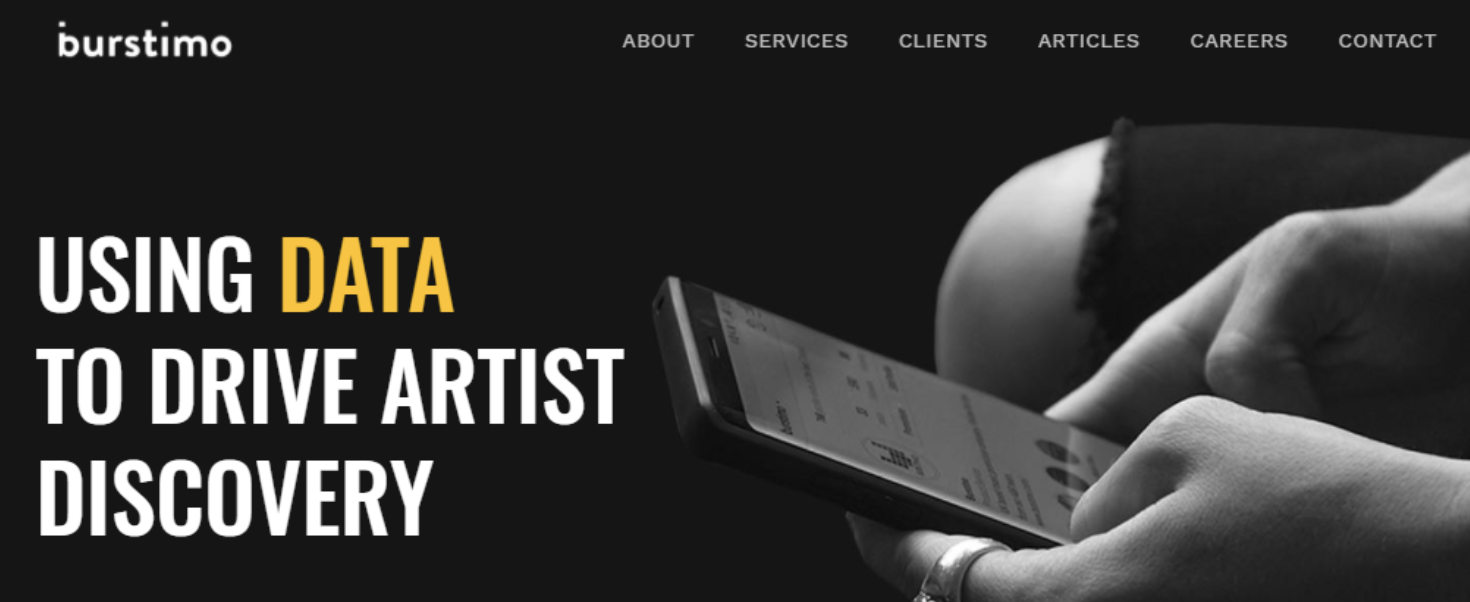 A distinctive feature of this British Spotify paid promotion service is that it does not have any promotion packages as such. An individual package is developed for each client. If you want to know the prices for listening to subscribers, then you should fill out the electronic form on the site, after which you will be contacted to clarify the details.
An interesting enough approach, but it is not suitable for everyone. If you are a person who loves transparency in everything, this service is not for you. However, if you are willing to take the risk and get a more personalized promotion, the choice is obvious. The reviews for this service are overwhelmingly positive, and my experience was pleasant.
After ordering and approving the size of promotion, the service team does not abandon the client, but helps and leads through the entire process of submitting tracks and promoting. If you compose one review from all the reviews that people write, then the advantages include reliability, quality, transparency of the process after the conclusion of the contract. However, the main disadvantage is the price. With such an individual approach, as with all individually produced things, this service requires significant investments. However, users who have already managed to use it note that this investment is a reasonable one. 6/10.
10. Indiefy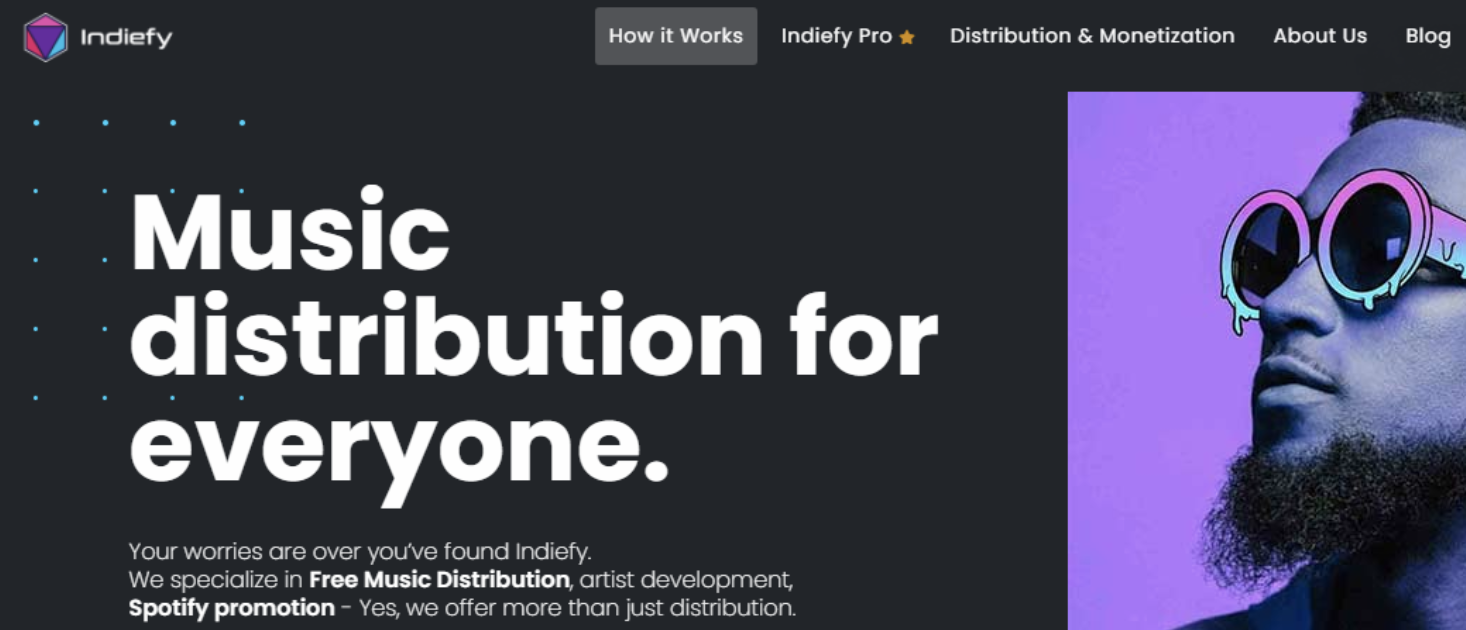 Analyze this promotion service, you can see two key aspects – prices and promotion packages. With regard to prices, they are quite low in comparison with competitors. Someone will like it, but it worries me. On the second point, the site does not describe well enough the description of different promotion packages, different opportunities, different ways. This can mislead the prospect and lead to unwanted spending.
Despite this disadvantage, the low price makes this service quite attractive for a potential client, especially at the very beginning, when there is not much finance. If your money isn't tight, take a look at these cheap ways to promote your music.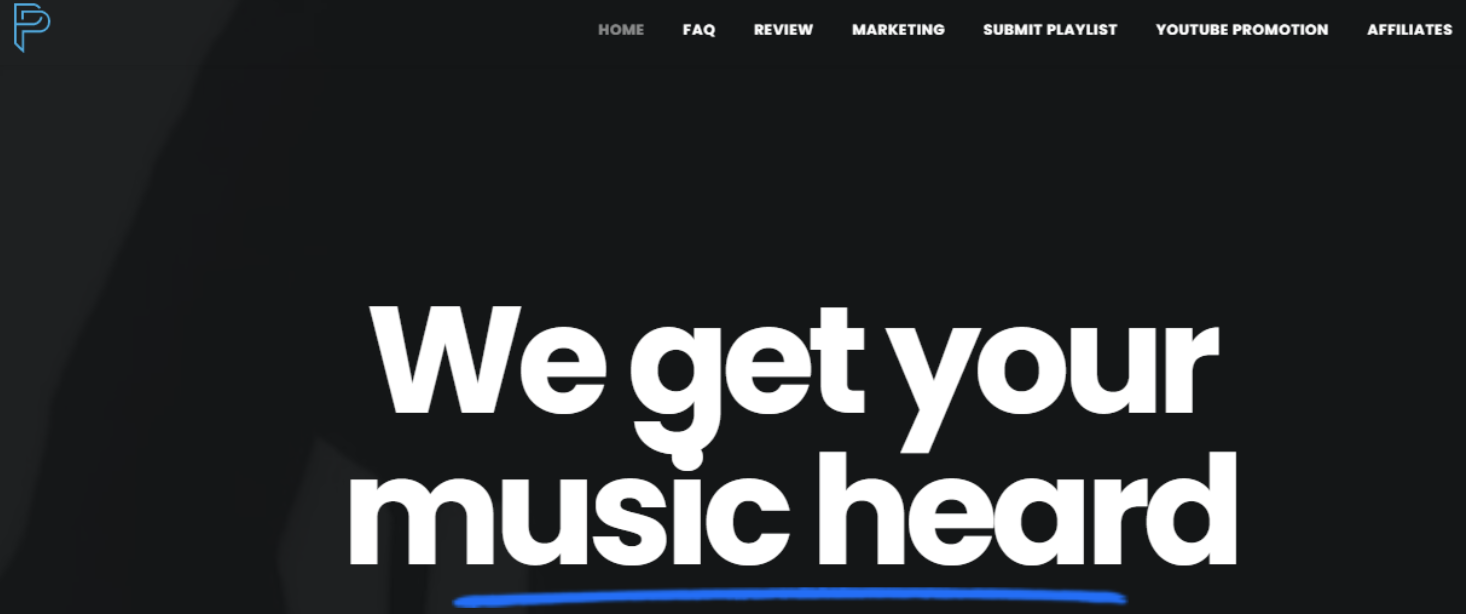 The main difference between this service for promoting music from competitors is its narrow specialization – the service focuses on plays. Such a narrow specialization allows achieving high results of productivity and promotion efficiency. This company has a special way of generating new plays- by placing music in curated playlists. This allows for organic and real-world plays and does not expose the client to the risk of being removed. However, it is worth remembering that this service has one limitation – the number of monthly listeners. This number must be specific for each order on a monthly basis. So, if your number of monthly listeners is low, you will be denied in promotion. This is done in order to achieve the maximum level of organic promotion. However, I think that this method is too large-scale, and the promotion of music through playlists is available in other services described above.
5 Easy tips on how to get Spotify playlist placement and how to increase monthly listeners on Spotify for free
Despite the fact that Spotify is a huge music venue, and there are a huge number of music promotion services, every beginner or experienced musician should devote a little of their time and start promoting it manually. Nobody is talking about completely replacing paid promotion, but only about strengthening its effect. After all, if you promote your music using publicly available methods, the result will be even better.
Naturally, I'm not telling you to teach online promotion methods, but I would advise you to try to do something on your own, work with social networks, blogs, websites. However, about the actions that you should perform – a little further. You need to constantly develop your strategy and come up with new ways of promotion that you can do, not the service. Perhaps you can find the source of endless traffic.
Playlists.

A great way for the aspiring musician to grow in popularity is to create playlists. The once forgotten playlists come back every year. Playlists are becoming more and more popular, more and more people prefer playlists to the classic Spotify algorithms.

Create a themed playlist in which your track will be one of many. If you surround your track with songs of famous performers, then a person clicking on such a playlist will not notice that they have slipped songs of an unknown artist. Among the popular tracks of famous musicians, your song will be lost, but this is only a plus. With such a simple psychological trick, you can lure a large number of new users into your army of fans. And the most important thing is that it is absolutely legal and organic.

In addition, users will not only listen to your track, but also share your playlist with friends, thereby increasing the reach and audience engagement. Not to mention, having your own popular playlist is a great way to promote not only your own music, but the music of other artists as well.

Your profile.

The profile of a musician, the way he looks, is a business card by which a person can be primarily interested. If your track has a cool and bright cover, it will stand out in the track list, and thereby attract the attention of potential listeners. In addition to beautiful covers, you should consider polishing your profile aesthetics. You should have a great profile picture, the song titles should be in the same style and about the same size so as not to strain your eyes. The covers of each track and playlist should be unique, interesting and memorable. I am sure, spending a little time, you will be able to achieve heights in this area. Well, if you are really bad with fine art, there are many artists on the Internet who are ready to draw any picture for you for a nominal fee.

Collaborations with other musicians.

The next way to increase your own popularity is to collaborate with other musicians. I'm not just talking about aspiring musicians, but also about popular ones. Many popular musicians were once in your place, small, unknown. And such musicians will not refuse help to a novice performer. In addition, any novice musician will be happy to come to the aid of another novice musician, suggest and recommend the music of this musician to his audience. This method of promotion is very organic, but not very effective. Only if you get help from a famous artist can you significantly increase your popularity. However, even such small plus points that you get from cooperation with small performers deserve to fight for them. Every follower, every play, is equally important.

Social networks and blogs.

In our world of social networking, these networks have tremendous influence. One wrong post can ruin your career, so you should be very careful with what you write and post. However, social networks are also a very powerful promotion tool available to everyone. Even without substantial knowledge of music promotion, you can noticeably improve your position in just a few steps. Try to create a profile for yourself on popular social networks, regularly upload new tracks, insights about creating music, thereby involving the audience in your creative life.

In addition, pay attention to influencers – popular bloggers and media persons. If you manage to interest any blogger in your music, you can be sure – he will agree to recommend your music, either for free or for a small price. Such a solution will allow you to organically receive a large amount of new traffic that you need so much.

Diversity on the web

.

In addition to the obvious promotion through social networks, pay attention to your presence on the network. Anyone interested in your work should be able to find information about you. You can create a page on Wikipedia, you can create a profile on a social network – the main thing is that you are everywhere. The key to success is diversity. Information about you should be available everywhere, on any site, on any social network. Even if you are not interested in this social network, create an account there anyway. The success of your promotion depends on how actively you enter social life.

Plus, having a social media page makes it really easy to popularize your music – people will be able to share it even with those who don't have Spotify. Oh yes, I almost forgot – I will try to create profiles on other music sites, leaving links to my Spotify in the profile.
Summary
Now it's time to draw conclusions. Promoting music on Spotify is a very important action that needs to be taken responsibly. No matter how popular or unpopular you are at the moment, be sure to take the time to promote your music on Spotify. Your career, your future, your fan base – it all depends on the success of your music promotion on Spotify. If you feel that your music is not doing well, that you deserve more popularity than you have – promote your music. These few dollars spent on promotion will surely pay off in the future, and will become the foundation of a successful, unique career. You can buy followers, plays, monthly listeners, likes. Any of the popularity parameters can be improved by paid music promotion on Spotify. Fear not, this is a simple process that will only lead to growth.
Thanks to this text, you learned a lot about promoting music on Spotify, how promotion services work, how to choose a service and what to look for. I hope the information received will help you in building a successful career, and I can't wait to hear your tracks and see them in the Spotify Top-charts!
FAQ
Is it legal to buy Spotify promotion? Yes, it is. There is no law that prevents musicians from promoting their music. Every action you take will be legal. No promotion service has a dungeon full of slaves, forced to generate Spotify traffic. Only real plays and followers here today, I would never recommend a shady service to my beloved readers. No worries!

When should I promote my music on Spotify?

Any time you want. The best results can be achieved right after the initial release of a new track. Promotion gives a good start, and Spotify algorithms do the rest. But no matter when you promote, the result will be the same – you will become more popular. Just do it the moment you feel like doing it.

How to get Spotify playlist placement

? As I already said, you can do it yourself, by creating a personal playlist, or by paying Spotify promotion companies to do it for you. Their playlists are far more superior, and provide much better results. Both ways are good, but the second one is a tiny bit better.

How to increase monthly listeners on Spotify?

If your only goal is a huge number of monthly listeners, then just buy them. Buying monthly listeners and overall caring about this parameter is rather uncommon, so it is a surprise that you asked. Getting more monthly listeners happen the same way as getting new plays or followers – through paid promotion. Or manual promotion, but only if you have lots of time to spare.

Which promotion option to choose? From the first glance, there are too many options to choose from. You have plays, followers, monthly listeners, likes, shares, etc. How to choose the one? Easy – promote any one of them. But better – all of them at the same time. The more growth you have – the better you are treated by the algorithm.

Plays or followers?

Start with plays – they are cheaper, and build a great foundation for future growth. Next – followers. Try ordering an organic number of followers, not to draw an unnecessary attention.

Which one of promotion companies to choose?

Obviously, the first and the second ones are the best. But you can tailor your music promotion to your specific needs, so the choice is yours – take a glance at the list above, open the websites, and follow your heart!