Spotify vs. Tidal From an artist's point of view 2022
Well, let's start with Spotify.

Spotify is a Swedish music service founded by Daniel Ek and Martin Lorentzon in April 2006 and started as a small start-up in Stockholm. The main idea was to stop the growing piracy issue in the music industry. "I realized that you can never legislate away from piracy. Laws can definitely help, but it doesn't take away the problem. The only way to solve the problem was to create a service that was better than piracy and at the same time compensates the music industry – that gave us Spotify." – says Daniel Ek.
Even though it was founded in 2006, Spotify was launched two years later, in 2008, and started gaining popularity. In March 2011, it was announced that Spotify had one million paying subscribers. In July 2011, it launched in the United States. In September of that same year, Spotify announced to have two million paying subscribers. And in May 2014, it announced that it had 40 million listeners and 10 million subscribers. Since its creation date, Spotify has become the world's largest music streaming service provider.
Despite Spotify's incredible worldwide popularity, it has some dark spots in its history. For instance, in 2014, artists started commenting on how Spotify doesn't compensate artists fairly. And should I say that one of those artists was Jay Z, who launched his own music streaming service, Tidal, in 2016.
What`s Tidal?

Initially, this music streaming service was started by technology firm Aspiro in Scandinavia in 2009 and was called WiMP, then was rebranded in 2014. By that time, it had 500.000 paying subscribers and was bought by Jay-Z's company for $56m. Except for Jay-Z, major music stars are listed as Tidal's co-owners and stakeholders, including Beyonce, Usher, Madonna, Rihanna, Nicki Minaj, Deadmau5, Kanye West, Jason Aldean, Jack White, Daft Punk and Win Butler.
When Jay-Z bought Tidal, the world's reaction was pretty aggressive. The critics claimed it was an exclusive club for wealthy musicians who wanted to make even more money. The artists organized a pompous event where they urged fans not to be greedy and spend more money on music. Even if the first impression wasn't the best, we can say that Tidal has been a success in some ways.
Tidal claims to have more than 80 million tracks and 350,000 music videos. It also offers two levels of service: Tidal HiFi and Tidal HiFi Plus. The main selling point of this platform is that it has "lossless" (higher-quality) streams. One more fact to keep in mind is that Tidal pays the highest percentage of royalties to music artists, not just compared to Spotify but within the music streaming market.
Number of subscribers
Currently, Spotify has the largest audience. It has confirmed to have 209 million active free users and 172 million premium subscribers by October 2021(according to its Q3 2021 earnings.)  
Tidal, in turn, was accused of overstating the number of its subscribers. In April 2015, Jay Z stated that Tidal has 770.000 subscribers. In 2016, the company claimed to have 3 million subscribers, while in reality, there were no more than 1.2 million active users. Now, as Tidal's a private company, it chooses not to share its number of subscribers. The last update was made in 2016. That's why we're using estimated numbers of Tidal's users' growth in this chart.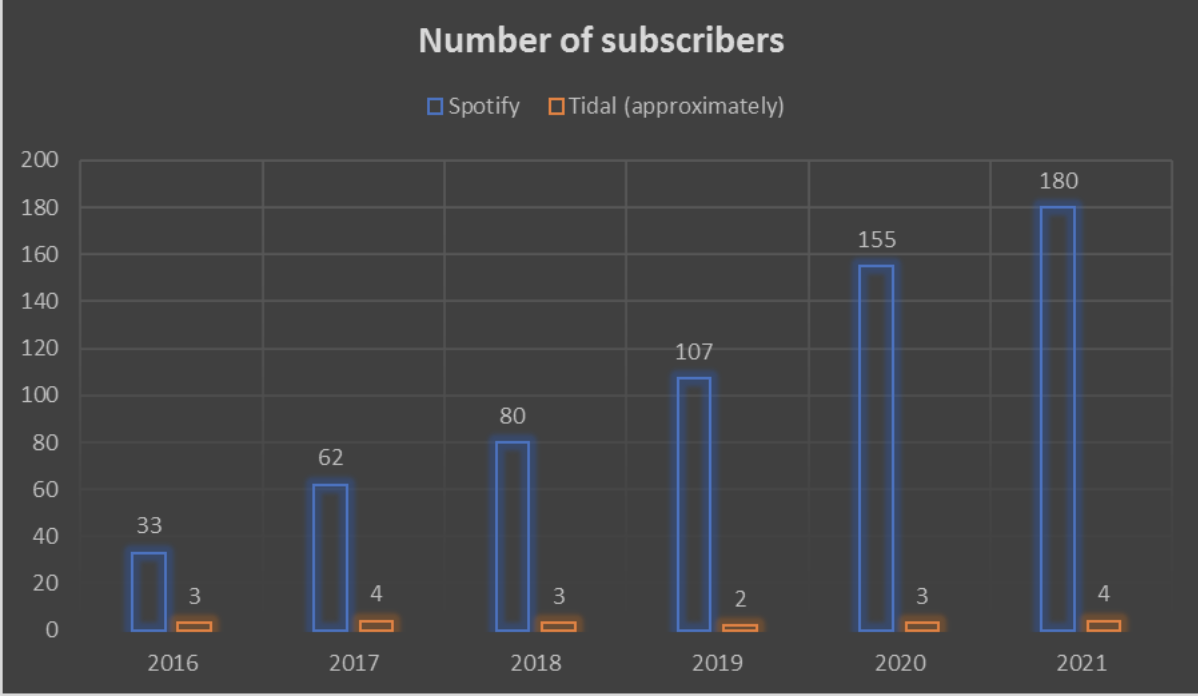 Tidal vs. Spotify: pros and cons
Tidal
Tidal is getting more and more subscribers every year, and more artists decide to cooperate with this music platform. For sure, it has its advantages and disadvantages that we're going to review.
First of all, one of the most essential missions of the platform is to give artists more control over their content as well as "to empower artists and facilitate better connections between them and their fans."
One more amazing thing about Tidal is that they are willing to change the way artists are paid. As we've already mentioned, Tidal claims to pay the highest percentage of royalties to music artists, which means that you'll be getting equal rates to label-signed artists. They also do Direct Artist Payouts, an innovative way for fans to support their top streamed artists more directly with HiFi Plus every month.
The next thing that's worth mentioning about Tidal is its Rising program. Tidal has an expert group of tastemakers who help to select and promote emerging artists with a lot of potential to a new audience via this program.
Of course, we cannot forget about the main highlight of Tidal's music platform, which is its audio quality. It provides a choice of premium and HiFi music quality that "enables fans to experience music as the artists intended it to be heard."
Also, they attract new followers by offering them exclusive content, real-life concerts and other experiences.
Now let's talk a bit about Tidal's disadvantages.
For a long time, one of its major disadvantages was the lack of a free version, while the subscription for the platform was (and still is) pretty expensive. Tidal free comes with ad interruptions, you can't watch videos, and the streaming quality is limited to 160 kbps.
It also is only available in a limited number of countries, so many users are supposed to use VPN.
Thirdly, compared to Spotify, Tidal lacks social features.
Moving on to
Spotify
Nobody can deny that Spotify has a better music selection (it claims to host more than 82 million tracks) as well as better cross-platform support.
Besides that, it's easy to use because they started a new partnership with Facebook, you can now begin using Spotify with your Facebook username. It also has a free plan. You can save up to 10,000 songs on 5 different devices by upgrading to Spotify premium.
A significant Spotify advantage is that you can install it on almost any device. Spotify is appealing to console gamers as you can download it on PlayStation or Xbox, which is not possible for Tidal yet.
Spotify is all over social media: you can share Spotify content on Instagram and Facebook and create links to share playlists pretty much on every platform.
And don't forget that Spotify has the largest audience with 209 million active free users and 172 million premium subscribers, which keeps many artists on this platform.
One of Spotify's obvious disadvantages is that many artists are protesting it. There're multiple complaints about the amounts of payments to the artists, listeners are starting political battles on what kind of content should and shouldn't be on the platform. So, here Tidal is in a better position, it's not involved in such conflicts, and its only goal is to provide listeners with high-quality music.
One more thing about Spotify is that its sound quality compared to Tidal is worse. Tidal's moderate HiFi plan, which is 10$ per month, streams at around 1,411 kbps, while Spotify is at 320 kbps. So I guess the difference is pretty noticeable.
Available features for artists?
Spotify's Artists platform is undoubtedly a great tool for an artist. It has a few amazing features that are really helpful. This platform should help you build a larger audience, and, with its help, you will realize how to target your advertising campaigns to the right people.
The first cool feature is

Data & Analytics

. You can discover how many listeners you have and whether their number increased or declined over time. To learn your audience and their needs better, the platform gives you information on your fans` age, gender, which countries and cities they live in. You can also have data on how many streams, listeners, streams per listener and saves a release you have over a period of time.

Besides analytics, you can get new fans by using multiple advertising campaigns. One of them is

Marquee

. It is a full-screen, sponsored recommendation of your latest release to Spotify Free and Premium listeners who have shown interest in your music and have the potential to listen more. When a listener clicks on a Marquee, they are guided to your new release—and your release alone. This means they can focus solely on your music and discover more of you.

Spotify Ad

is the next tool for you that will help to attract more listeners. With a 15-30sec audio advertisement, you can promote yourself to potential listeners. It perfectly works with "Free" users, who hear ads regularly as part of their package

Profile tools and Canvas.

To optimize your profile and make your connection with fans deeper, you can use these two tools. Start with editing your bio: you can change your bio and photos whenever you have inspiration for it. You can also share updates with fans with an Artist Pick, add a fundraising link, or feature playlists. The Canvas feature is also exciting as it's a short looping visual you can add to each of your tracks on Spotify. You can add 3D graphics, videos, 2D graphics, and when users are playing your music, these visuals will be shown on their screens.

Spotify also provides artists with videos and

articles

helping to figure out how to release and promote their music and what's the right way to use Spotify for artists' features.

 
Tidal for artists mainly concentrates on fair payments and rising singers` programs. It doesn't have as many tools available as Spotify. Still, it focuses on its innovative programs to support artists and on the connection between fans and their favorite artists.
One of these programs is the Direct Artists Payout program. It's an initiative that gives artists access to a new payment stream thanks to their fans. It's like a fan club where your followers help you stay on top month after month. How does this work? Well, if someone has a HiFi Plus member's subscription, the artist he's listening to the most during the month will get up to 10% of the subscription fee. At the end of every month, Tidal looks at a subscriber's most-listened-to artist and allocates the direct payment to that artist.

Tidal Rising. As mentioned before, Tidal concentrates a lot on new artists, and one of its big projects is Tidal Rising. It's a project dedicated to introducing fans to new unknown music they might've missed.

The next thing Tidal is concentrating on is "making royalties more fair & equitable." Streaming royalties are important for every artist. Today, artists are paid based on the month's total listening patterns among all subscribers, so basically, they're paid from a "massive royalty pool." Tidal relooked this idea and pays everyone what they deserve. Fan-Centered royalties were introduced in 2022 as part of Tidals HiFi Plus tier. The main goal of Fan-Centered royalties is to ensure that only subscribers' favorite artists and tracks are being paid for their work.

Unlike Spotify, it's not as easy for an artist to change or update their profile. To do it, you have to make a request through your distributor.
Streaming payouts comparison
Well, in general, there`re a few types of streaming payouts.
Mechanical royalties are paid to songwriters and their publishers (the owners of composition) for the right to reproduce the composition. They are generated whenever the user chooses to play a song.

Public Performance Royalties. Performance royalties are paid to songwriters and their publishers for the right to publicly perform their music.
On Spotify there're two types of royalties: Recording royalties and Publishing royalties. Recording Royalties are paid to rightsholders for recordings streamed on Spotify. Publishing royalties are owed to songwriter(s) or owner(s) of a composition. For a played song on Spotify (whether it's a Premium account or an ad-supported customer), rightsholders receive royalties. Per one stream, Spotify pays less than a cent: from $0.003 to $0.0084 per stream (the average payout is $0.004 per stream.)
Even though Tidal is less popular than Spotify, it pays artists up to $0.013 per stream. However, no need to forget that Tidal's artist-friendly, that's why it has extra streaming payout calculations (the Direct Artists Payout program and the Fan-Centered Royalties).
| | | | |
| --- | --- | --- | --- |
| Music Platform | $ on average per stream | Streams to earn 1$ | Streams to earn 1000$ |
| Spotify | $0.00437 | 229 | 229.000 |
| Tidal | $0.01284 | 80 | 80.000 |
New features on platforms
Nowadays, platforms have to compete for their subscribers, so they announce new features that should attract new users and keep entertained the ones they already have.
Spotify adds group and artist playlists to shared playlist feature Blend. From now on, you can create shared playlists with up to 10 people by searching "Blend" within the "Search" tab on Spotify. After that, you can invite selected people who you want to use the Blend feature with. When they accept the invitation, Spotify generates a shared Blend playlist that includes songs and recommendations from the group's individual music preferences. You'll also be able to see which songs were added for which friend. The great thing about it is that the Blend playlist feature is available for both free and premium Spotify users.
The second upcoming feature Spotify is testing right now is pre-saves on its platform, which will allow users to add music from an upcoming release to their library. The first band with whose new album Dance Fever you could try the new thing was English rock band Florence + the Machine, which was set to arrive on 13 May through Republic Records. To add the album to their library and be notified when it drops, users can head to the band's artist page on the Spotify mobile app and click on the 'pre-save' button. Spotify has confirmed that Florence + the Machine's Dance Fever is the first test, and more will soon follow.
Just a few months ago, Tidal's added its new free trier to "remain competitive." For now, it's only available in the US. It includes access to Tidal's library of 80 million songs and playlists. Also, it will have limited to 160kbps audio, no offline listening, and limited interruptions between tracks. And yes, just like many other platforms, Tidal will not allow unlimited skips on their free tier. Moreover, Tidal has also updated its HiFi Plus to master-quality audio at up to 9,216 kbps, and now it includes support for spatial formats like Dolby Atmos Music and Sony 360 Reality Audio. The $20 (£14.82) plan will also offer early access to upcoming features and content.
Tidal also updates DJ-related content with artist-curated playlists and DJ software integration. They have upgraded its DJ content, with an entire module dedicated to providing DJs with new material to build their toolkits. The platform will also establish new partnerships with major DJ software developers.
Spotify top 50 Global
Well, at the end of the day, if you're an artist, what platform is better, Spotify or Tidal?
No matter what platform you choose, it all depends on what you expect from it, on your music, and what you're focusing on: sales, community, or showing your music to more fans.
Now let's break it down:
While Spotify has 217 million subscribers, Tidal has around 4 million users. At the same time, Tidal claims to have a bigger music catalog. Furthermore, TIDAL's sound quality (with the $19.99 plan) is superior to Spotify's sound quality. It also has a reputation for being a platform used by tastemakers. And finally, we can't argue with the fact that Tidal simply gives artists more rights to their music and its financial model is better.
Moreover, they attract subscribers by offering exclusive content and real-life experiences, such as concerts. All of this makes it possible for them to create a more immersive music streaming experience where the focus is on your brand as an artist. In this regard, Spotify dips its fingers in many pies; hosting podcasts as well as music (which opens up the platform for many users but might affect artists who want to create a brand through the platform.)
Anyways, make your choice wisely or don't make it at all. Why not get your benefit of them both? 😊