YouTube Music: Google's lousy attempt to beat Spotify or something worth taking a look at?
What`s YouTube music?
YouTube Music is a music streaming platform. For the first time it was launched as Youtube Music Key in 2014. After that, the app underwent a couple of rebrandings before becoming Youtube Music in 2018. Then, YouTube music took Google Play Music's place in the streaming service sphere. In September 2020, Google has started shutting down the old service and suggested its users to move to YouTube Music instead. That signified the end of music purchases from Google and a move to a streaming offering instead. Of course, Google provided its users with a method for moving their previous Play Music purchases over to YouTube Music. And just like that, YouTube Music has officially taken Google Play Music's place. In general, the service uses a freemium model, which means that it gives the subscribers limited free access to certain features and encourages them to upgrade to a paid account. But we will discuss this model a bit later.
As many people believe, by creating Youtube Music, Google was trying to make a move against the most popular music streaming services, such as Spotify and Apple Music (which are already competing on their own).
But we have to admit that it's not an easy task to take customers away from their existing streaming music services. Users have established their music libraries, playlists, and podcasts. Starting everything again from scratch is not what they want. Besides that, Spotify has already reached more than 150 million subscribers, so it might be pretty hard to fight with this music giant.
So let's take a closer look at YouTube music and see if it's good enough to pull users away from Spotify or if it's just an impossible Google's dream.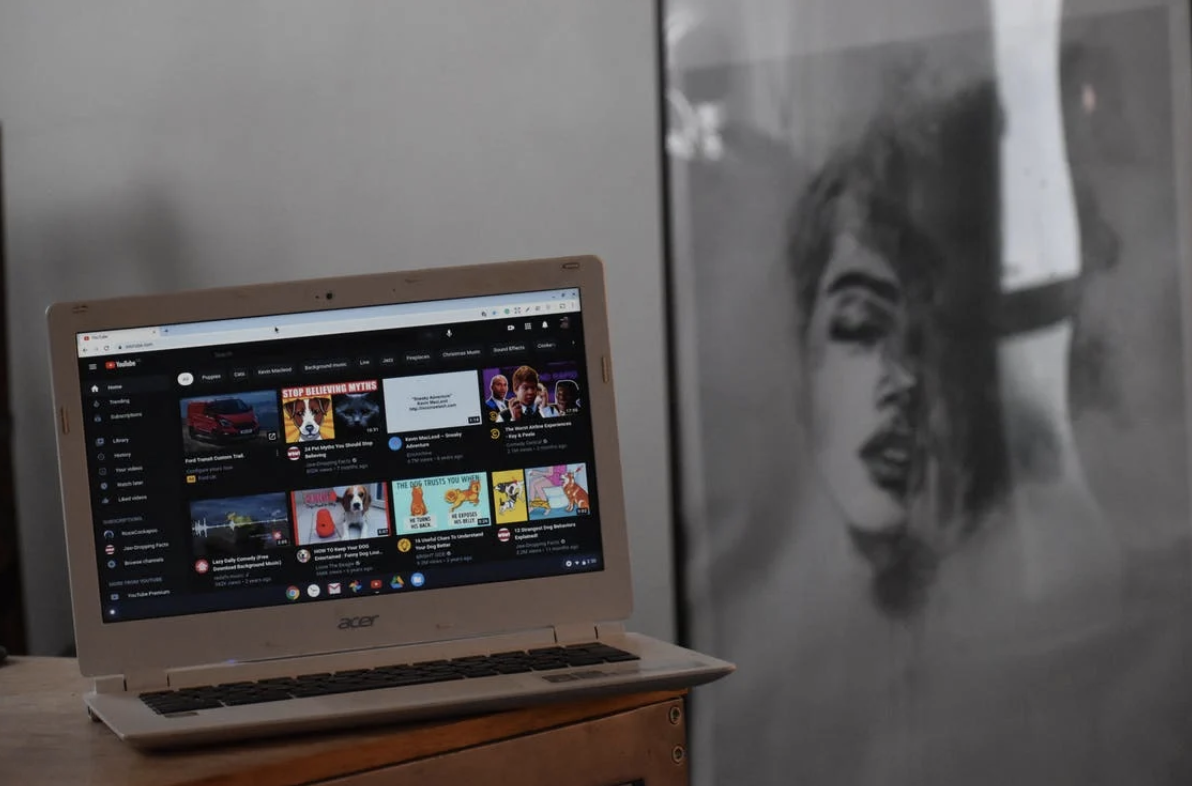 Why is YouTube Music Premium often confused for YouTube Premium?
Many people really can't see the difference between these two. Let me make it clear, Music Premium is a unique subscription plan exclusively to the music app. At the same time, YouTube Premium is a sitewide subscription plan. With the second one, you can get unlimited access without adds to all music-related content, in addition to other premium streaming features. In addition, you can get ad-free playback for all videos on the platform (not only the ones related to music), including ad-free access to Youtube Originals and YouTube Music – all for $11.99 a month.
Pricing and plan options
If we pay attention to the pricing, we can see that it's pretty competitive and pretty close to most of its biggest rivals like Apple Music, Spotify, Deezer, and Tidal. Unlike many other apps, YouTube Music offers fewer plan options. For example, Spotify has a Premium Duo option for two people; Deezer has an additional HiFi option for high-quality streaming and optional plans for doctors and nurses; Tidal not only offers HiFi for all their subscription tiers but also has discounted plans for families, students, US military personnel, and first responders.
Also, you can use YouTube Music Premium on a maximum of 10 mobile devices.
| | |
| --- | --- |
| YouTube music (free plan) | – |
| Youtube Music Premium | $9.99/monthYoutube |
| Music Family | $14.99/month |
| Youtube Music Student | $4.99/month |
| Youtube Premium | $11.99/month |
Interface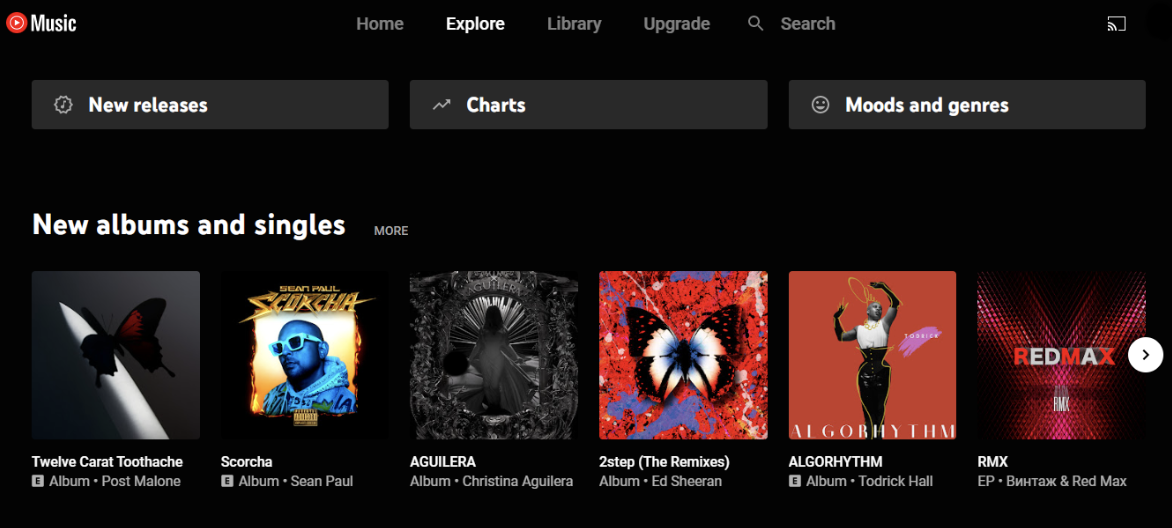 The user interface of YouTube Music is nice to look at. Both website and mobile app are nearly identical. But there isn't a traditional desktop app to download. 
The first thing you see when you open YouTube Music is "New Releases," which is always good for those who always look for new music. Like any other app, the library button shows your downloads, the playlists you've created, albums, songs you've liked, and artists.
Home screen also shows a list of typical categories: favorites, recommended, new, and moods to fit your preferences. From here, users are able to search for a specific artist or song, check out a curated video hotlist, etc. For example, suppose you're listening to a music video and want to switch to audio. In that case, you can select "song" at the top of the display. But instead of just playing the music video, it pulls up the actual audio version.
There's also one cool feature you can use: if you share your location, it can also recommend music based on where you are. Of course, you can also listen to your music offline.
So, in general, the interface seems nice, but there's one thing about it. If you're completely new to the app or did not use music platforms before, you may feel like you're playing a bit of a guessing game as some essential functions are tucked away under different sections and sub-menus.
And yes! A new update lets you create a playlist and then add your friends to it so that you can use it together. This is something that Spotify has had for a long time, but it's nice to see YouTube upgrading the social aspect of the service.
But there's also one thing not so good about playlists. If you want to listen to a playlist or album on shuffle, you can expect to get the same order every time. You can't sort a playlist by song, artist, or album within the actual playlist.
If we take a look at the platform's advantages, one of them is that on Youtube Music you're able to play any music videos from its collection.
Besides that, as I have already mentioned, it operates on a freemium business model. And unlike Spotify, free YouTube Music lets you skip ads. You can listen to music on shuffle mode, in a queue, or from a playlist, and you can also skip as many songs as you want. There're no limits, whereas Spotify only lets you skip 6 songs per hour. Even though both apps have a free plan, on YouTube Music you can access the entire content library. So, if you're looking for a free platform that doesn't have too many restrictions, YouTube Music might be a better option.
You can also search music by lyrics and read lyrics while listening to a song on the service's iOS and Android apps. To see lyrics, when you've got a song open in the app, just tap the "i" button on the left side of the screen. The lyrics will then show up under the tracking bar for the song, which is excellent, but you can hardly say it's something unusual; this feature is available on most platforms.
What's bad
YouTube Music is a great choice for those who prefer watching live performances, music videos, and covers. It has a vast library, and you can download content for offline playback. Still, its audio quality falls short compared to other services. For instance, while Youtube Music is capped at 256kbps, Spotify's goes up to 320kbps. Moreover, one of the main downsides of the app is that it must remain open on your phone for uninterrupted listening. However, when you're using a desktop app, this will not be a problem.
Previously, subscribing to an artist's YouTube Music profile automatically subscribed to your regular YouTube account to said channel. However, YouTube has since updated the subscription mechanism to separate YouTube Music subscriptions from YouTube subscriptions.
One more little fact: unfortunately, YouTube Music is known for ranking artists poorly compared to other platforms. Of course, if you want to support your favorite bands, you can always buy their albums and go to their shows.
YouTube premium
The streaming music field is full of companies fighting for users` attention. If you're a music video fan, YouTube Music Premium is hands-down the best subscription service currently available. It has millions of official, unofficial, and lyric videos and beats up more limited platforms like, for instance, Tidal. 
The platform also uses a tremendous amount of data that Google has on its users to provide customized experiences. YouTube music must offer you some heart-pumping beats and riffs if you're at the gym. When you're at the airport, the platform is supposed to help you find calm and relaxing tunes. At least that's how it's supposed to work, and if you're ok with sharing your personal data, it's a cool feature for you that other apps cannot offer.
Google's music platform can be proud of the massive collection of songs from films, video games, and the music industry as a whole, as well as the fantastic covers and fan remixes. YouTube Music is the service for you if you don't like podcasts or high-resolution audio.
And here we go to the next thing that's worth discussing. YouTube Music, as well as many other music services, offers access to tens of millions of songs. The most significant difference between it and other platforms` content is that it doesn't give you access to a wide selection of podcasts like Spotify. Again, if you're into videos, YouTube Music is the better option for you. But if you feel like podcasts are more of your thing, you might want to choose Spotify.
Music discovery
Here's when you can actually feel how different is YouTube music from Spotify. Spotify is just much better and bigger for finding new music. It has the popular Discover Weekly playlist, which contains songs from artists and genres you're listening to.
A new playlist releases every Monday with 30 tracks. Furthermore, the service creates up to six daily mixes for you based on your listening habits.
YouTube Music offers only four types of personalized playlists. The Discover Mix gives you 50 tracks every week. The New Release Mix lets you check out the most recent releases by your favorite artists and a set of mixes based on your listening habits. Finally, there's the My Supermix, a combination of songs from different genres you like (includes 100 tracks). On Spotify, there're more moods and genres available to browse than on Google's music streaming platform.
We cannot claim that YouTube music is bad for finding new music. It does have a few mixes and playlists, and most people will be satisfied with it. However, Spotify just does it way better.
But the one amazing thing that highlights YouTube Music Premium apart from its competitors is that you can add any song that is available on the YouTube video site to a YouTube Music Premium playlist. It's cool because YouTube has tons of live performances filmed by the audience around the world. So if you want to make a custom live concert playlist of your favorite band or artist, you have hundreds of videos to choose from.
Finally, the fact everyone should admit is that over the years, the YouTube Music service has vastly improved and added new features to keep up with competitors, and it is worth taking into account.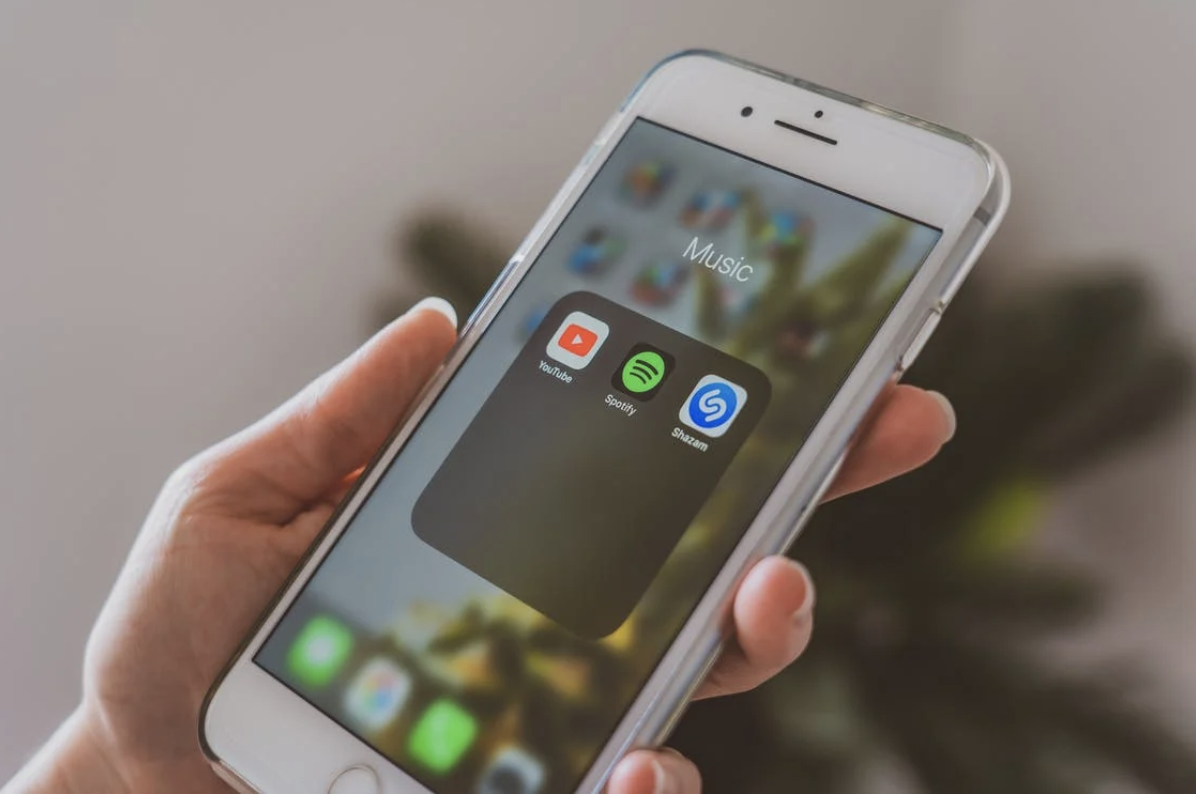 But even considering this, Spotify would still outshine Youtube Music in multiple ways. It connects to much more devices than Youtube Music and has a better audio quality and subscription flexibility. Not to mention the access to other streaming services like Spotify Kids, Hulu, and SHOWTIME.
YouTube Music is one of the best products that Google has ever had and a great option if you don't already use Spotify. If you do, I don't think you need to switch.
It may be a better option if you like video performances or documentaries about favorite artists. It stands out from rival services by search-by-lyrics functionality, official studio releases, and community uploads. It's a fantastic service, though, it probably won't get you to move from the platform you're already using
Of course, the decision always depends on users` needs and preferences.